This is an article I wrote after IBC 1999 for TVB Europe. Production models of the camera started shipping August 2000. There is also more information on Ikegami's Editcam2 which was new at IBC 200. With an update from IBC 2001
IKEGAMI EDITCAM
by Christina Fox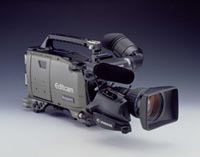 Ikegami introduced the next generation of its disk-based EDITCAM camcorder at IBC 1999, claiming that the technology has finally caught up with customer requirements. The first generation of EDITCAM launched in 1997 was criticised for being too bulky, heavy and power hungry, but the new DNS-201W and DNS-21W EDITCAM camcorders are now the same size and weight as a DVCPRO camcorder, while power consumption has been reduced by a third of that required by its predecessor, and at 28W it is now the same as other digital camcorders.
The top of the range DNS-21W is fitted with FIT CCDs and two 4-position filter wheels - while the DNS-201W uses IT CCDs. Both are 16:9 /4:3 switchable with 10-bit digital signal processing and four 16-bit audio channels. Following user feedback, Ikegami has reduced the number of features, such as the on-camera editing functions, which users felt were confusing, making the new versions more like a traditional camcorder. Editing can still be done, but only by plugging the camcorder into an external laptop computer, which also improves ease of use.
The camera records 25 to 40 minutes of digital pictures on its 4GB Fieldpack removable disk drive, which is down in size by 80%. Weighing in at 200g it is now slightly smaller than a Betacam SP tape. Ikegami expects to offer customers a 6 or 8Gb Fieldpack in the near future. According to Gisbert Hochgòrtel, Ikegami's international product manager, because the fieldpack suffers less wear and tear than tape "you can expect drastically reduced maintenance."
Non-linear recording offers several benefits to users. EDITCAM's Intelligent Recording Function prevents even the most inexperienced user from accidentally recording over previously stored material - even if they are in playback mode. And any cameraman doorstepping a politician will appreciate its Retroloop function. Just set the camera to record a pre-set time loop (between five seconds and three minutes), and once the politician opens their front door, you hit record and your current shot is seamlessly joined to the pre-recorded material. No wasted tape - no missed shots.
The EDITCAM also offers single frame and time-lapse recording, which Ikegami claims was previously only available on film cameras. Also, the time delay associated with digitising analogue before editing in a non-linear environment is eliminated by using the fieldpacks - provided you are using an Avid editing system. The camera uses Avid's M-JPEG compression algorithm, but Ikegami will be offering software upgrades to DV-native compression early next year. An MPEG-2 version will follow.
Ikegami hopes their new EDITCAM will be more popular than the first generation of EDITCAM which only sold around 50 units. When asked if there had been much interest in the camera at IBC '99, Hochgòrtel admitted: "when people see a solar powered car they are interested - but if you ask them if they want to buy one, they prefer to stay with their petrol driven vehicle. "
The DNS-201W is available at 57,000DMarks, the DNS-21W for 80,000DMarks and the FieldPak (4Gb) 1,300DMarks (List Prices / EC-Duty paid).
OCT 2000