DV or DVCAM and the new HDV
There is a lot of confusion here. DV and DVCAM use the same video codec and, so, offer the same picture quality. The big difference is that the tape runs faster in DVCAM, which makes it more robust in the event of drop out and less prone to compatibility problems. But, it does mean that 60 minute tapes (for DV shooting) become 40 minutes tapes for DVCAM. That may be a problem if you want to record long events without changing tape. Maybe a camera that records DV SP (standard play) and even LP (long play) will be more useful (such as the VX2100).

A newer format that is getting people excited is the high-definition version of DV, HDV. Sony manufactures the HVR-Z1 and HDR-FX1 (and consumer single-chip HDV camcorders), JVC has the GY-HD100/101, while Canon have the XLH1. An alternative low-budget HD camera is Panasonic's new AG-HVX200, using DVCPRO HD. If you are interested in buying a 16:9 HDV or DVCPRO HD camera, you'll find a review and comparison of these four cameras in our HDV and DVCPRO HD buying guide.

On this page we will concentrate on DV and DVCAM cameras.
CCDs
The CCDs (Charge Coupled Devices) convert light into an electrical signal - they are like the film in a cine camera. For professional results, you need 3 CCD chips (one each for red, green and blue light). Single chip cameras (generally) belong in the domestic market. When it comes to CCDs, size matters. Bigger is better. Most prosumer cameras use 1/4-inch CCDs, although a few models use 1/3-inch CCDs. Industrial cameras have 1/2-inch CCDs, while most expensive pro-cameras use 2/3-inch CCDs. A larger CCD always results in better pictures, even if the pixel count is the same. Look for a minimum resolution of 500 lines.

You might also see the acronyms IT (Interline Transfer) and FIT (Frame Interline Transfer) bandied about. FIT CCDs are better than IT, because they are more resistant to vertical smear (which shows up if you point the camera at lights), but both have improved so much recently that this is rarely a problem.
WIDESCREEN
Virtually all cameras below £2,400 will be native 4:3 , which means that the CCDs will be in the proportion of 4 across to 3 down. Unfortunately, if you are buying a camera for broadcast in the UK, this will not be good enough any more - 4:3 aspect ratio pictures are on the way out. All the UK broadcasters want programmes delivered in 16:9. If you are shooting weddings or corporate videos you may also find clients start to ask for their video in widescreen too - because more and more people have widescreen TVs at home and at work.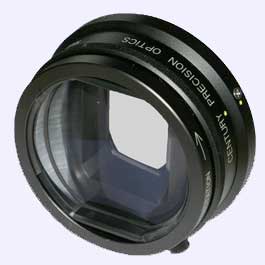 If you already have a 4:3 camera and can't afford to upgrade to 16:9, then there are three ways to get it...
Many DV cameras offer menu options that take a 4:3 image and convert it to 16:9. It is simple and cheap. But, unfortunately this method reduces picture quality by throwing away the top and bottom of the picture.
Anamorphic lenses are designed to see the world in 16:9 but squash it to fit the 4:3 CCD. Anyone you shoot will look tall and thin in your viewfinder. Then when you come to edit you tell the software that the image has been shot anamorphically and it will pull it back out to 16:9. Anamorphic lenses don't reduce picture quality. However, they are expensive and you should make sure you buy a zoom-through anamorphic that won't go out of focus when you zoom. (Here is a good comparison of Optex's and Century Optics' anamorphics)
The final option is to aspect ratio convert (ARC) your 4:3 material. You can do this in the edit suite - but for the best quality you should ARC with a Snell and Willcox ARC 100.
To be honest, if you are going to go through all of that palaver, you would be better off selling your 4:3 camera and putting the money towards a native 16:9 camera.
Canon's XL2 is native 16:9, which makes it desirable, and costly (around £3,400 with lens). The larger Sony DSR-500/570 series are also 16:9 but, are now out of production - although there are a lot of them around and you should be able to pick one up second hand. It has been replaced with the Sony DSR-450 (cost around £10,000).
All the new HDV cameras are also 16:9. To future proof your kit for a while longer I would seriously consider one of the new HDV/DVCPRO HD cameras if you intend to upgrade - they can all record DV to tape too.
THE LENS
Most prosumer cameras have built-in lenses that cannot be removed. These usually don't zoom out wide enough, so make sure you have money in your budget for a wide angle adapter. With lenses you get what you pay for. Spend as much as possible to get the best quality.

Canon's XL1s and XL2, Sony's DSR500 and The JVC HD100/101, allow you to remove and change lenses. It can be difficult to cover all eventualities with just one lens so most professionals have at least two zoom lenses - one biased towards telephoto and another that goes very wide.

Do check how your lens behaves at the extremities. As you zoom out, you may notice that strong verticals become curved (barrelling) and that the corners of the picture get darker (vignetting). Lens ramping occurs when you zoom in, if you are in manual you will see the f number change and the result is that the picture will get slightly darker - a problem if you want to do a lot of night shooting. A good lens minimises all these characteristics.
LOW LIGHT
If you intend to do a lot of night shooting the camera's performance in low light is important. The PD150 and PD170 are well know for their good low light capabilities - compared to cameras of a similar price.

If you get a chance to check out cameras at a trade show, notice how bright the stage sets are. Then note the f number on the lens. Most will be around f8 or f11 (i.e. a small aperture). Pictures always look great with a well lit subject. If possible, pan the camera round to a dark area of the hall (adjust the iris accordingly) and check picture quality in low light. Does it still look good? How sensitive is the camera? Did you need to add some gain? If so, how much?
THE VIEWFINDER
A good viewfinder is vital. The best give you control over the brightness and contrast.

The DSR450, DSR500, DSR570 offer peaking (edge enhancement) in the picture to help with focusing. all of the new HDV cameras do too along with some type of focus assist - because HD pictures are more demanding.

Most flip-out LCD screens are difficult to see in bright sunlight. So, you may want to buy a cover to shade it and improve picture quality. The Hoodman is simple but effective - check it out at www.hoodmanusa.com. Petrol also does a sun shade, click on the accessories tab on its website.

You also need to angle the LCD for a decent picture. However, angling the screen can make the picture seem brighter or darker, which is not very useful if you are relying on it to help you get the exposure correct - for that you should also use Zebra stripes. The best cameras offer a range over zebra setting - so, you can set it to your own preference - cheaper cameras usually only offer zebras set at 70% or 100%.

Of course, one of the best things about a colour screen is the ability to check if the white balance is correct.
AUDIO INPUT
Almost all DV cameras and tapes offer CD-quality 16-bit, 48kHz audio sampling, so poor sound recording can't be blamed on the format.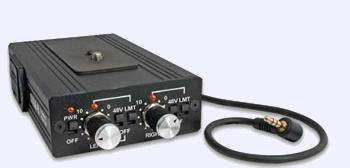 On cheap low-end cameras, audio input is via a mini jack. These sockets will eventually become loose and the sound one-legged or intermittent.
Professional mics tend to come with XLR connectors which are robust enough for daily use and abuse. So, if you can afford it buy a camera with XLR sockets and plugs.
If your choice of camera has a mini jack for audio input (eg VX2000, VX2100) - you will need an adaptor to plug in professional microphones. Beach Tek makes an add on sound box that enables you to convert a minijack into two XLR sockets. Do make sure you get the one with phantom power if you own a gun mic.
INPUT/OUTPUT
BNC, RCA Phono, S-Video or FireWire. There are several ways to take pictures out of the camera, besides ejecting the tape. To stay digital throughout, ensure the camcorder has a FireWire/IEEE-1394 connection (the unpowered four-pin version is called i-Link by Sony). This allows you to play straight from the camera into an editing system - handy if you use a laptop to edit on location.

High-end cameras have BNC outputs and inputs that enable you to link two cameras together to lock timecode. Very useful, in the edit suite, if you are shooting a one-off event with multiple cameras and need to synchronise shots in the edit timeline.
THE SHUTTER
I think the shutter on video cameras is overrated. You rarely need the wide range of speeds they offer. However, they are useful for fast moving sports like tennis and cricket (to reduce motion blur), where the ball travels at over 90 mph. While slow shutter effects can be useful for the occasional effect.

More useful is the ability to shoot computer screens without flicker. For that you'll need a camera with a clear scan or synchroscan (variable shutter) option that increases in small increments so that you can sync the shutter speed with the computer screen refresh rate. Canon XM2, XL1s and XL2, Sony DSR500, Panasonic DVX100 and 100A all have a clear scan mode that should sort out all computer screens.

Unfortunately, the Sony VX2000, VX2100, PD150 and PD170 do not have an easy way to deal with computer flicker. However, if you go to my online training manual I have a trick that does the job.

On some cameras (like the PD150), the shutter can be set as low as three frames per second to give an interesting slow-motion effect. While the XL2 has 25 fps cinemode to help give your video a film look (see also 24P below).
50i or 24p (i stands for interlaced and p for progressive)
Interlacing is a clever technical trick used to minimize picture flicker on your TV. With interlaced scanning, a TV frame is composed of two fields. One field is made up of all the odd numbered lines, while the other field is made up of all the even numbered lines. These interlaced fields are usually referred to as 50i for PAL (60i in NTSC) and the frame rate is very similar to how the eye sees the world (giving a natural-looking motion blur). If you have an old fashioned, bulky (CRT) TV you are watching interlaced pictures.
Progressive scanning scans the whole picture frame from top to bottom (like reading a book). If you watch programmes on a Plasma screen, LCD or DLP (Digital Light Projector), then you've already been watching pictures displayed in a progressive mode (although not necessarily recorded progressively).
With cameras, progressive scanning usually leaves us with 25 frames - often referred to as 25p (30p in NTSC). This gets some people very excited, because film is also shot at 24 (or 25 for European TV) frames per second. A camera that shoots true 24p / 25p will give you a film look without all the costs associated with film production.
If you are on a low budget and want to make video look like film make sure that the camera shoots true 24p or 25p. The DVX100A and Canon's XL2 both offer the bog standard 50i video look and a 25p film look. You should also take a look at the new JVC HD100 and Panasonic HVX200 for their high definition film look options.
For a very good explanation with animated pictures on progressive and interlaced pictures see www.avdeals.ca/classroom/Proscanexplained.htm - it is more biased to the American audience but the explanation should still be of use to us PAL people.
I'd also recommend you look at the excellent Ken Stone site for more info on 24/25p and editing (with Final Cut Pro)
PRICE
As in most things the more you pay the better the quality - although you should expect to negotiate a discount (at least 10 to 20% off RRP), especially if you buy the rest of the kit from the same dealer. Here's a comparison of some of the cameras I think are worth considering.
COMPARISON CHART
Sony PD 170



Sony HDR - FX1



Panasonic
AG-DVX100A


Canon XL2



Sony DSR500



DVCAM and DV

HDV and DV

DV

DV

DVCAM

4:3 Native


16:9 Native (4:3 switchable)

4:3 Native


16:9 Native
(4:3 switchable)

16:9 Native
(4:3 switchable)

1/3inch 3CCDs -
400,000 effective pixels

1/3inch 3CCDs -
1,070,000 effective pixels

1/3inch 3CCDs -
470,000 effective pixels

1/3inch 3CCDs -
550,000 effective pixels
(410,000 in 4:3)

2/3inch 3CCDs

570,000 pixels

12:1 zoom lens
6-72mm

12:1 zoom lens
4.5-54mm

10:1 zoom lens
4.5-45mm


20:1 standard zoom lens
5.4 - 108mm
Interchangeable lenses

19:1 (Canon lens)
9-171 mm
Interchangeable lenses

Interlaced (progressive for stills only)

1080i
(interlaced)

Cine-like gamma
25p and 50i

Cine-like gamma
25p and 50i

Interlaced

2.5-inch LCD

3.5-inch LCD

3.5-inch LCD

2-inch TFT viewfinder

1.5-inch 600line CRT viewfinder

Two XLR sockets - phantom power.

No XLR sockets on FX1

Two XLR sockets - phantom power.

Two XLR sockets -
phantom power.

Two XLR sockets - phantom power.

FireWire

FireWire

FireWire

FireWire

FireWire

1.6kg weight

2.0kg weight

1.66kg weight

3.5 kg weight (inc 20x lens)

3.6kg (camera body only)

Operating Manual

Operating Manual

Operating Manual

Sony PD 170



Sony HDR - FX1



Panasonic
AG-DVX100A


Canon XL2



Sony DSR500



The successor to the PD150, which sold by the shed load. This is a good, reliable workhorse if you are happy with 4:3. Very good in low light.
The HDV pictures look great, but I'd go for the pro version (the Z1) as it has 2 XLR sockets.

If you want the 25p film look, and know your gamma from your pedestal, this is worth a look.

A nicely balanced camera.

Interchangeable lenses, 16:9 and 50i/25p makes it interesting at this price.

However, the design is front heavy and, so, easier to use on a tripod.

Look like a pro. Three big CCDs, 16:9 and interchangeable lenses.

The DSR500 and 570 are no longer in production. They have been replaced by the DSR-450. However, a lot were sold and you may get a good second hand deal.

£2,400

£2,500

£2,400

£4,000

£9,500 (new)

(inc 19x zoom lens)
Prices are approx and exclude VAT .