ON THIS PAGE:

Upgrade to a Mac
Compatible files





Creating Converts
by David Fox
We won two more converts to the Brotherhood of the Flashing Aqua Button last week. Not thanks to any persuasive powers I might have. No, thank Bill Gates. Both my wife and her best friend have decided to abandon Windows because Windows has abandoned them - several times in my wife's case. She spent a lot of time recently on the phone to Gateway support, reformatting hard drives, reinstalling Windows, reinstalling Windows again, and again, trying to find drivers, backing up and repartitioning disks, and other fun stuff. She is not best pleased.
Upgrade
I suggested she might as well upgrade her PC while she's doing this. She, on the other hand, would far rather buy a Mac. Having noticed how easily I've upgraded my Mac over the years (I hadn't thought it was that easy, but it only ever involved one quick call to a support guy), she has bought Apple's Switch argument [see Apple's current advertising campaign for details...].
Besides, everything she really needs (Word, Excel, Dreamweaver, Photoshop, Internet Explorer and Outlook Express) works on the Mac.
Of course, if anything goes wrong, Apple support isn't exactly free for life, whereas Gateway has been (so far). Admittedly, there is doubt that the lifetime of Gateway the company will be as long as some of its machines. But, despite the fact that it has abandoned the European market, closing down its production and support facilities in Ireland, it hasn't abandoned its users. Instead, its help line is now another Irish support company, and it is still free - even if they do go home at 5.30.
The advice they give isn't always perfect (who can be expected to know all the vagaries of Windows?), so there have been times when, despite her telling them exactly what she wanted to do, it has been a case of three steps forward, two steps back (She said: "I want to partition the hard drive"; they replied: "Just install Windows first". An hour later, another support guy says: "You should have partitioned the hard disk first."). Still, it does give me a rare glimpse of how well she puts up with aggravation, stupidity and ignorance - something I, of course, would never get to see otherwise....
Compatible
Both she and her friend had started out on Macs (Christina on my old SE), but had to buy PCs when they did their MBAs and had to exchange large Word, Excel and PowerPoint files with colleagues. Apple wasn't quite as Windows friendly then. Now, with a desktop and portable PC each, they want to flee the dark side. Even before giving them a tour of OS X on my iBook, they were pretty much convinced.
All they wanted to be sure of was that it could read their old files. Christina knew that I could exchange files with her pretty easily, and that the HTML files saved by AppleWorks needed no cleaning in Dreamweaver whereas her Word documents needed a lot of attention. But, the last time Alison used a Mac, creating files that a Windows' user could read was a lot more difficult.
Despite Apple's advertising, the message that Office for the Mac is totally compatible with Office for Windows obviously hasn't reached much beyond the brethren of existing Mac users. The idea that AppleWorks can read and write any Office files is even less well known. I can't say that there is a pent up demand to move to the Mac that only needs a few reassuring words about file compatibility to unleash, but there is a lot of dissatisfaction with Windows, which Apple can exploit. If people knew how simple it is to make the switch and can be reassured that everything they want to do is possible on a Mac, it should theoretically take only three years to win over 80% of the computing population. After all, most PC users need to upgrade their PC after three years (if the machine even lasts that long), and the 80/20 rule (where 80% of people use 20% of whatever) means that those 80% will be able to do everything they ever want to do on the Mac. Of course, if 80% did use Macs, then all the other software suppliers would port their software to OS X, and all those wonderful viruses, Trojan horses and denial of service attacks would finally be available to us forgotten few, and Apple can proudly take its place among the monopolies hauled before the justice department.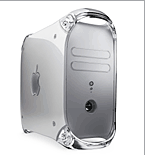 OK, maybe being the dominant computer platform is not the complete answer either. It is nice to be part of the discerning elite, but it would be good to grow the user base a little.
So, perhaps if every Mac user can persuade just two Windows' users (with Bill's help) to abandon their PCs, and we just leave it at that, then we'll have the best of all worlds. In which case, I've done my bit. Thank you and good night....
David Fox is a London-based journalist, TV producer/director who has been happily using Macs since the Mac SE, and unhappily using other PCs since before they even had workable Windows (that'll be prior to Windows 98 then...). Besides computing, he writes a lot about film and video production, which can be found elsewhere on www.urbanfox.tv
June 2002