New: Sony HVR-V1E camcorder with HVR-DR60 hard disk drive.
This is Sony's newest camcorder, which sits between the single CMOS HVR-A1 and the three CCD HVR-Z1. It is almost exactly the same shape and weight as the DSR-PD150/ PD170.
The HVR-V1 has the following features...
Three ClearVid CMOS sensors.
True progressive scan 25p.
Records to a mini DV cassette - or via firewire on to the new HVR-DR60 hard disk drive, both at the same time or one after the other.
Carl Zeiss Vario-Sonnar T lens, 20x optical zoom with F2.8 at the telephoto end.
3.5-inch LCD.
HDMI output (so you can plug it into your HDTV set).
Smooth slow recording in chunks of 3, 6 or 12 seconds – at 240 frames per second (although this rate might be for the US version, as the Sony person also said it was 4x record time). Thisi records to an internal 64MB memory then streams to tape. At 3 seconds it records at "high" quality (640x360 pixels), for the other two it records at 512x320, then up rezs to HDV or DVCAM.
Two XLR microphone inputs.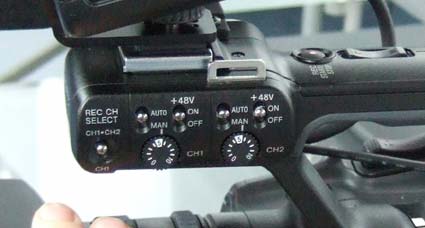 The memory stick has returned and you can save up to 20 camera profiles. So, all your favourite menu settings and preferences can be stored and transferred to another camera.
Contrast Enhance feature (like backlight but without affecting the bright areas – is how the engineer explained it), not to be confused with black stretch ,which it also has AND knee adjustments too.
Peaking and Zebra on screen at the same time (unfortunately not a software upgrade that will be applied to the Z1, although we asked...).
Available end of November around Euro4600 (list).